US Poker News - Latest Online Poker News
We found US Poker Sites that accept poker and casino players from the United States. The rooms featured below are online poker sites for us players and each one of them offers special bonuses. We offer US Poker players Reviews, Bonus Codes, Freeroll Tournaments, Guaranteed Tournaments, News, and Strategy.
---
Introducing the OSS Cubed The $4,500,000 Guaranteed Poker Tournament.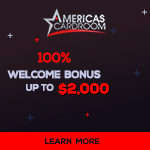 Americas Cardroom is bringing you three tournament series, for four straight weeks, back-to-back-to-back this summer! They're packing in a MOSS (Mini Online Super Series), an OSS (Online Super Series) and the first ever BOSS (Bigger Online Super Series) into four incredible weeks! The OSS3 will run from Sunday, August 14th through Sunday, September 11th and guarantee a massive $4.5 million in prize pools spread across 141 events! read more
The Freebuy Super Series
The Freebuy Super Series, one of the favorite events at Americas Cardroom, returns for a third time from Friday, February 26th through Sunday, March 6th. This 10-day series has $150,000 in guaranteed prizes in 57 events. The main event is a MASSIVE $20,000 GTD No Limit Texas Hold'em tournament to be held on Sunday March 6th at 5:30pm ET. Follow the link below to access the 57-event schedule. Read more
5 Million Dollar Gauranteed Tournaments
FIVE weeks of $1,000,000 Dollar Sunday Tournaments coming this FALL! to Pokerhost Poker, Americas Card Room and True Poker. Each event will have a buy in of $540, a no-limit Texas holdem tournament which has 15 minute levels and a 10,000 starting chip stack. Got a penny? Spin to Get IN; a great offered feature so the you can try and win your sit for a fraction of the cost, ONE penny that can lead you directly into the game the guarantees a $200k First place prize! Satellites are scheduled to run regularly for the Million Dollar Sunday Main event, DAILY don't miss out on the opportunity to qualify and parlay your small investment into a $200,000 first-place prize! Read More
Million Dollar Gauranteed Tournament cancelled becuase of a distributed denial-of-service (DDoS) attacks
If you have been playing poker online in the last month then you know there has been alot of tables freezing and players timing out. This is becuase we are seeing alot of Distributed Denial of Service (DDoS) attacks plaging the online poker industry. This is what happened on December 14th 2014, when the Winning Poker Network attempted to have the biggest tournament since the Poker Black Friday. The $1,000,000 guaranteed tournament was scheduled, started and cancelled. It started out fine, but ended up being a huge letdown as it was cancelled 4.5 hours into the tournament just before late registration was set to close. Read More
Cake in Process of Selling Selected Assets to Lock Poker
Cake Gaming N.V. has announced today it is in the process of selling selected assets to Lock Poker, enabling Lock to rebrand the existing Cake Network to Revolution Gaming. Cake will continue operations providing all of its current Network partners, sites and players the opportunity to be part of the Revolution Gaming Network. Read More
Lock Poker to Acquire Cake Poker Network, Rebrand as Revolution Gaming
Lock Poker recently acquired the assets of the Cake Poker Network and will rebranded the network to Revolution Gaming. This is their new US facing platform. The change took place on June 1, and existing Lock players were moved to the new platform on May 31. Although Lock Poker was once a Cake Poker skin, they are currently a skin on the Merge Gaming Network. Lock Poker claims that it is the largest skin on the Merge Network, accounting for 40 percent of Merge's traffic. The offer an industry unique vault to store your money and process deposits and withdrawels. Read More
Federal Judge Rules Poker A Game Of Skill Not Chance
US District Court Judge Jack B. Weinstein's ruling that tosses out the conviction and indictment of Lawrence Dicristina, a New York resident who was recently convicted of running an illegal gambling business for operating a live poker game. The judge's ruling states poker is more of a skill game than a game of chance, so operators of these games should not breaking federal law Which prohibits operating an illegal gambling business. Read More
Department of Justice Settles Lawsuit With PokerStars And Full Tilt Poker For $731 Million
On Tuesday August 7, 2012 the Department of Justice agreed to settle their lawsuit with PokerStars and Full Tilt Poker. The lawsuit was a result of what is now known as Poker Black Friday, where government prosecutors in Manhattan filed charges of civil bank fraud and money-laundering against the online poker sites and seized their domain names and Full Tilt's funds. They also brought criminal charges against their founders. Later, the government charged executives of Full Tilt of operating a Ponzi scheme and stealing millions of dollars from gamblers accounts. Basically, prosecutors accused Full Tilt owners of taking money out as fast as it came in and not have the funds necessary to pay players as they cashed out. In the end, they owed more than they could repay. Read More
Everleaf Gaming Network Bans All US Poker Players
The Everleaf Gaming Network announced that they will ban all US poker players from their network and skins effective immediately. They said this was for both new and existing players. This decision follows the Department of Homeland Security issuing a letter to cease and desist operations in the USA, under threat of legal enforcement against the network. A few weeks ago they saw a closure of a US processor and seizing of players funds. Players had been reporting cashout issues in recent weeks. Read More
Justice Department Ruling Could Mean Big Changes For Online Poker Players
In a very surprising move, the US Department of Justice has clarified its stance on internet gambling. The legal opinion was issued on Friday before Christmas, but the original decision was made back in September. The ruling came in response to a request by Senators Harry Reid and Jon Kyl for the Department of Justice to clarify its position. Two other states, Illinois and New York, also requested clarification regarding the Wire Act of 1961, one of the major laws used by the Department of Justice in pursuit of online gaming and poker regulation. Read More
Bovada Replaces Bodog Poker In The US Poker Market
On Dec 14 Bodog Poker was officially rebranded as Bovada Poker. The Morris Mohawk Gaming Group (MMGG), who was the US licensor of Bodog Poker, will operate Bovada Poker. It was announced back in July that Bodog intended to withdraw from the US poker market entirely and announced the launch of a special Poker site exclusively for US players. We have since found out this new site is Bovada Poker. Read More
The Merge Poker Network is accepting new US poker players again.
The Merge Gaming Network is re-opened its doors to US Poker Players once again. The network opened very quietly and has not made any official announcements, althoough member sites like Carbon Poker, PokerHost, and Lock Poker have begun new US Player sign ups. The Merge Network stopped accepting players from the United States in June. They did still allow current customers to play at the tables. Read More
The Merge Poker Network has stopped accepting new US poker players but plans to resume soon.
In June they paused due to a huge influx of new US players that were signing up. They acknowledged a 70 percent increase in players after many online poker sites stopped accepting US based poker players because of Black Friday. So many new players had signed up it created a bottleneck on the network. The result was tremendous delays with payout's to current players. Read More
Bodog is leaving the US Market in 2012
Bodog announced it's not going to offer its internet gamlbing suite to the United States market starting January 1, 2012. This news follows the United Kingdom Gambling Commission announcment that Bodog is the first bookmaker to receive both a remote and non-remote gambling license. Bodog's license agreement with Morris Mohawk Gaming would expire at the end of 2011, and Bodog does not have any plans of renewing. Bodog Brand released this statement about their decision to let their brand licensing deal with Morris Mohawk Gaming expire after the year. "Following recent news that Bodog has been granted a gambling license by the United Kingdom Gambling Commission, we are very happy to announce further developments to the Bodog brand going forward". Read More
Full Tilt Poker Has Licence Revoked Site Effectively Shut Down.
The Alderney Gambling Control Commission (AGCC) suspended the licence of Full Tilt Poker and effectively stopped all games and shutting down the site.
The AGCC said in a statement: "The decision to suspend these licenses follows a special investigation prompted by the indictments unsealed by US Attorney General's Office in the Southern District of New York on 15th April 2011, during which grounds were found to indicate that these licensees and their business associates were operating contrary to Alderney legislation." Read More
More Domain Names And Gambling Operations Seized On Gray Monday.
The Department of Justice in Baltimore Maryland Has seized two internet gambling businesses and their international owners as part of a long, undercover sting, details of which were released Monday after 11 associated bank accounts were seized in five countries and 10 Web domain names were shut down. Homeland Security set up a phony payment processing business in Atlantic City and spent two years infiltrating the world of illegal online betting. If convicted of running an illegal gambling business, the defendants face a maximum of five years in prison. Money laundering carries a maximum sentence of 20 years. Read More
Check back often as we will be updating the site as the information comes available.