The OSS Cub3d is BACK From August 13th to September 10th
---
For the second time this year a 4-week long tournament extravaganza and this time, a guaranteed $6.7 million prize pool and over 141 action-packed events! That's $1,000,000 more in prize pool guarantees than the one held in the spring!
The OSS Cub3d kicks off with a Mini Online Super Series (MOSS), and is then followed with one of our flagship Online Super Series (OSS), and ends with a bang with a Bigger Online Super Series (BOSS).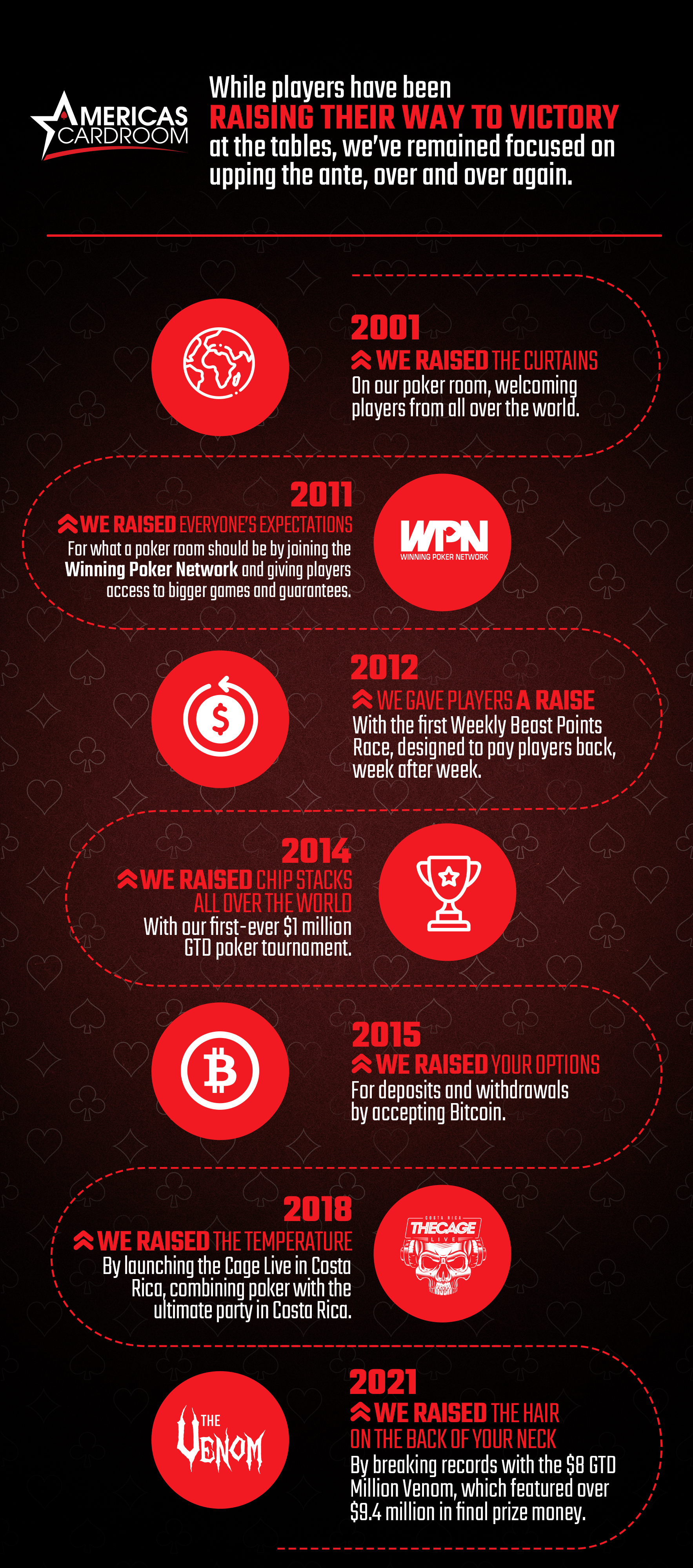 OSS Cub3d HIGHLIGHTS:
141 events guaranteeing over $6.7 Million

3 Main Events

Buy-ins ranging from $0.06 to $2,100

Silver Sterling Bracelets awarded to three Main Events Winners

Top-3 on combined leaderboard receive $4,900 package to the 2017 Punta Cana Poker Classic and a Sterling Silver Bracelet.
OSS Cub3d Sterling Silver Award Bracelet
As an online poker player, you often don't get the recognition of your achievements that you deserve. That's about to change in a big way!
If you win any one of the 3 Main Events of the #OSSCub3d ($250k GTD MOSS, $1,000,000 GTD OSS, or $750k GTD BOSS) or are one of the 3 players to finish a top the combined leaderboard, Americas Cardroom will ship to you a sterling silver bracelet engraved with your achievement!
On September 7th, it's time for the BOSS. Short for Bigger Online Super Series, the BOSS is designed exclusively for high rollers. The series features larger buy-ins to keep the fields smaller, ultimately offering incredible value for those participating. The BOSS is highlighted by a $500,000 guaranteed Main Event.
Players who play multiple events throughout the 4-week long series have a chance to take home an all-inclusive poker vacation via the OSS CUB3D combined leaderboard. The four players who accumulate the most points will each earn a $4,900 package for this year's Punta Cana Poker Classic in the Dominican Republic. Included is the Main Event buy-in, all-inclusive accommodations for two, and more.
OSS3 Highlights:
3 Tournament Series in 1 (MOSS, OSS, BOSS)
3 Main Events ($150k GTD, $500k GTD, $1 Million GTD)
$4.5 Million in Guarantees
Buy-ins range from $0.06 to $2,100!
Satellites to qualify for all major events
Combined leaderboard with 4 PCPC Packages up for grabs!
Boss - Bigger Online Super Series:
| | | | | | |
| --- | --- | --- | --- | --- | --- |
| Date | Time (ET) | Event # | Guaranteed | Buy In | Type |
| Wednesday 7th September | 6:00 PM | #1 | $60,000 | $300+20 | Regular |
| Wednesday 7th September | 7:00 PM | #2 | Cage Event | $5000+$100 | $5k cage |
| Wednesday 7th September | 8:15 PM | #3 | $100,000 | $500+$30 | High Roller |
| Thursday 8th September | 3:30 PM | #4 | $20,000 | $100+$9 | PLO8 5HR LR |
| Thursday 8th September | 6:30 PM | #5 | $100,000 | $1000+$50 | Regular |
| Thursday 8th September | 7:30 PM | #6 | $50,000 | $200+$15 | Regular |
| Friday 9th September | 3:30 PM | #7 | $50,000 | $100+$9 | 5HR LR |
| Friday 9th September | 6:30 PM | #8 | $60,000 | $300+$20 | Regular |
| Friday 9th September | 7:30 PM | #9 | $60,000 | $1000+$50 | SKO |
| Saturday 10th September | 3:30 PM | #10 | $60,000 | $150+$10 | 5HR LR |
| Saturday 10th September | 6:00 pm | #11 | $40,000 | $200+$15 | 6 Max |
| Saturday 10th September | 7:00 pm | #12 | $20,000 | $300+$20 | PLO 6 Max KO |
| Saturday 10th September | 8:00 pm | #13 | $50,000 | $60+$6 | Rebuys/Addon |
| Sunday 11th September | 1:00 pm | #14 | $60,000 | $200+$15 | Sunday Special PLO |
| Sunday 11th September | 3:00 pm | #15 | $200,000 | $200+$15 | Sunday Special |
| Sunday 11th September | 4:00 pm | #16 | $500,000 | $2000+$100 | Boss Main |
| Sunday 11th September | 7:00 pm | #17 | $100,000 | $200+$15 | Regular |
Other News: